EDSEL SCRAPBOOK
A nifty place for Edsel fans to share their photos from meets, car shows, Edsel meetings, or whatever. Photos can be e-mailed directly to me for inclusion in the scrapbook. Please remember to include caption information. If you've already seen this page, head for page Two of the Edsel Scrapbook with a click here.
Also, for MORE Edsel pictures, visit the Car Show Reviews, as the focus of show news is on Edsels I found in attendance, but these photos will NOT move to the scrapbook until they are one year old. You can find the links to the Car Show Reviews back on the front page.
Certainly one of the most beautiful Edsel's I've seen in a long time. the two pictures below come from Kent Petersson in SWEDEN! Thanks for the great photos, Kent!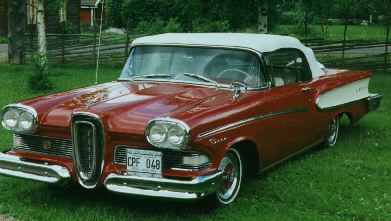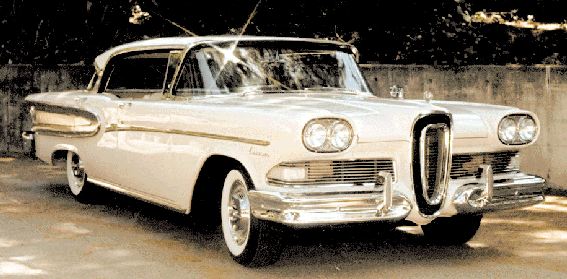 A very beautiful '58 Citation, which we thought belonged to Barry Norman of Arizona. Picture was e-mailed to me from Brian Martin, but it turns out it's actually NOT Barry's car! Thanks Brian, for sending a great pic anyway, and if someone knows whose Edsel this is, let me know so we can give credit to the owner!
Pay a visit to

to help support this site and find cool stuff. Just Click the Logo!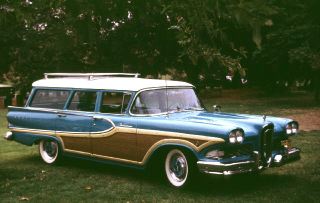 1958 Edsel Bermuda Wagon, owned by David Lee - President of the (S.Cal) Edsel Club and Fab 50's Ford Club. Photo by R.C. Claborne 1997 All Rights Reserved.
There are some new Edsel Toy Cars in the stores. Perhaps you've seen them?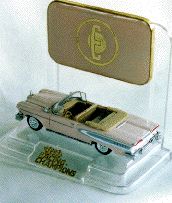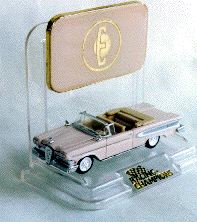 I've seen these in the local discount department stores such as Wal-Mart, Target and K-mart. The pink Citation I bought at a car collector booth at the World of Wheels car show in Duluth. The Tide racing car seems to be plentyful right now, and rumor has it there is also a black and white stock car version, done up in 1950's vintage racing logos, but I have yet to see one.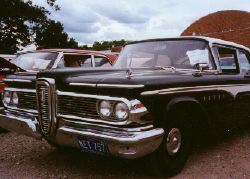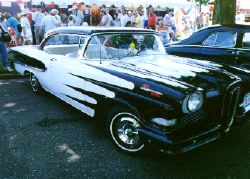 Here's a nice '59 Edsel at the Summer Dance Cruise, Surf Ballroom, Clear Lake Iowa, and also a "customized" '58 at the MSRA Back to the 50's Weekend 1997. Somewhere I've got a photo of the "custom" dash. If i find it, I'll post it.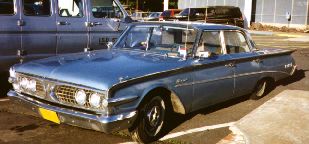 It's a nice '60 Ranger, taken at the joint Minnnesota/Wisconsin Fall run nearly 4 years ago.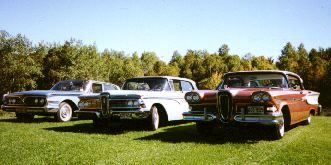 All three years covered, also from the Fall run, taken at Al Lilgreen's house during the big shindig. The swell Edsel cake (below) was also from this same event. We Edseler's know how to PARTY!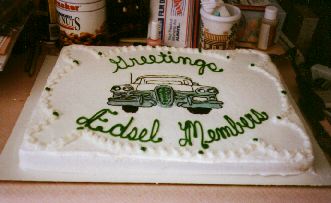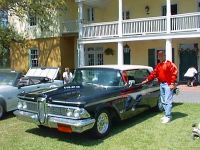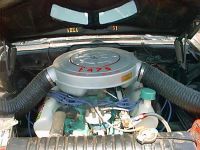 Charlie Robinson sent along these photos of what he says is the "Worlds Fastest '59 Edsel" with an 11.8 second ET at 110 MPH.Not too shabby, Charlie. For More "Worlds Fastest Edsel" news, click HERE! The challenge has been issued!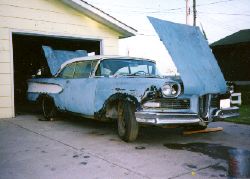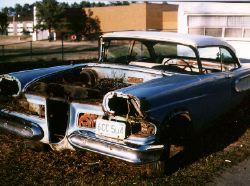 This is a '58 Ranger I bought with the hope of saving, however, the car was too far gone for me to ressurect it. So, in hopes that others might live, it's various parts were sold,traded, donated to other Edsels in need. Interesting foot note. Notice in the left photo there is a windshield. In the right photo, there is not. It went to a fella out west, who to this day insists I sent him a windshield from a '59 Corsair! Must be the air out there or something!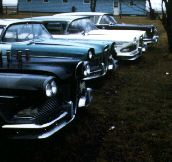 This is my cousin Walters Edsel collection, circa 1971. The black Corsair in the foreground I bought from him in 1976, my very first Edsel. Lots of good stories to tell about that monster!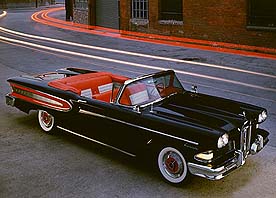 Kris Trexlers beautiful 1958 Citation Convertible. Thanks for the photo, Kris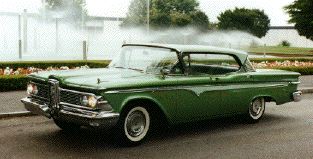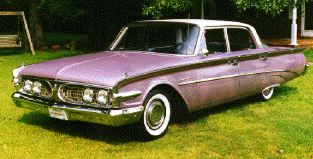 1959 and 1960 Edsels owned by Greg and Francis Pack of South Carolina. Greg says:"The 1959 Ranger 4 dr hardtop is Jadeglint Metallic with Mist Green top and spear. We bought this car in 1991 and we've driven it to shows in 13 states including New York,Wisconsin, Indiana, and Ohio. The 1960 is a Ranger 4 dr sedan and is Lilac Metallic with a Polar White top. This car belongs to mywife, Frances. We bought it in 1992, and finished restoring just in time for the IEC Rally in Spartanburg, SC in August '97." Thanks to Greg and Frances for sending along these fine photos.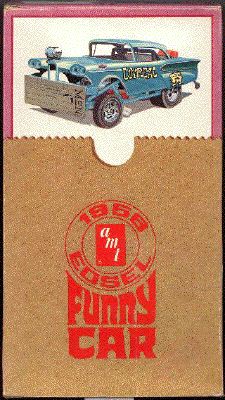 This is actually a vintage model car kit made by AMT, for an Edsel Funny Car Dragster. Boy I wish I had one of these kits today! A very rare item indeed!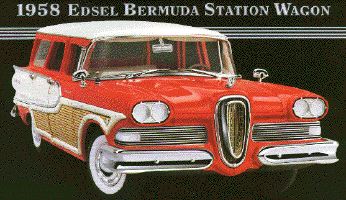 The Danbury Mint put out a scale model Edsel Wagon. This is the photo of the actual model from their sales literature. I purchased one, and it really does look this good. I do not know if this is still available, but you can write to them at 47 Richards Ave., Norwalk, CT 06857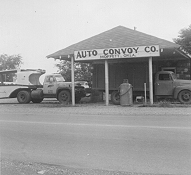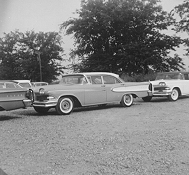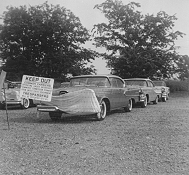 Photos of the newe 1958 Edsel being delivered to dealers, taken in August 1957 by then 13 year old Ronald Steinbach who graciously provided these photos for your enjoyment. The photos were taken at the Auto convoy Company while he was passing thru Moffett Oklahoma enroute to Florida for a family vacation. First picture is the Auto Convoy Company, where Ronald saw these "different" looking cars that he had never seen before. Apparently getting a little braver, ronald got the picture of the "All-New 1958 Edsel". They were serious about this vehicle! Note the sheet over the grille! The sign reads: "KEEP OUT common carriers operating under authority commerce commission permits from United States Government. Trespassers will be reported to the F.B.I."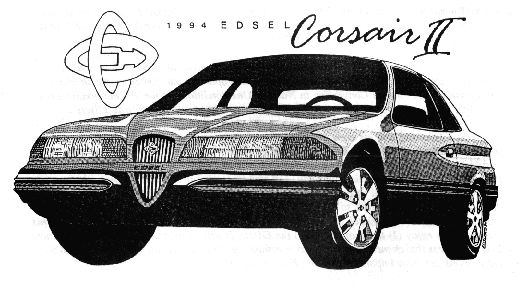 What if the Edsel had survived? It's amazing what you find when you start looking for something else. Here's an "artists rendition" of what the 1994 Edsel may have looked like. Drawn by Bob Ellsworth, one of the original deisgners of the actual original Edsel automobile.
Pay a visit to

to help support this site and find cool stuff. Just Click the Logo!
Page TWO of the Edsel Scrapbook
Back to the Front Page
To the Edsel Classifieds
To Edsel News