The
NEW
AMT/ERTL 1958 PACER
MODEL KIT
HITS THE STORE SHELVES!
After waiting for YEARS the new AMT/Ertl 1958 Edsel Pacer kit has arrived! Released this fall, it took me an entire weekend of checking hobby shops in the Minneapolis/St.Paul area to find one! Model dealers expect to have plenty on hand once the initial hooplah subsides.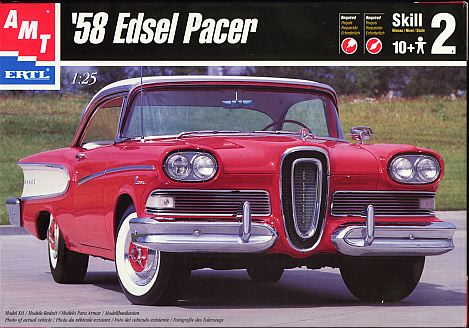 I haven't even opened the plastic bags inside my kit containing the parts. Just don't seem to have the time right now. I haven't built a model kit for probably 20 years. The model is molded in gray plastic. Seems to have plenty of chrome, even red inserts for the tail lights and inserts for wide white wall tires. Rated a "2" skill level, which means age 10 and up should be able to handle building it. Detail seems to be quite good. Only the hood opens, doors and trunk are molded solid. I'm sure there will be model buffs who make these things operational. Again, I'll know a lot more once I get to start building it. In the meantime I suggest that if you want one, you get it promptly, as these sorts of things have a way of vanishing from sight before too long. Would also make a dandy Christmas gift for an Edsel buff or perhaps the offspring of an Edsel buff! Should you complete a model, consider yourself encouraged to send me a photo. Scans of the box sides are below, hopefully you'll be able to read the details.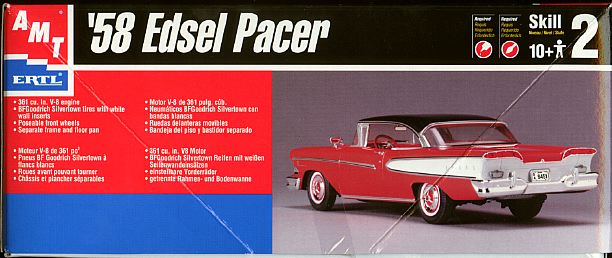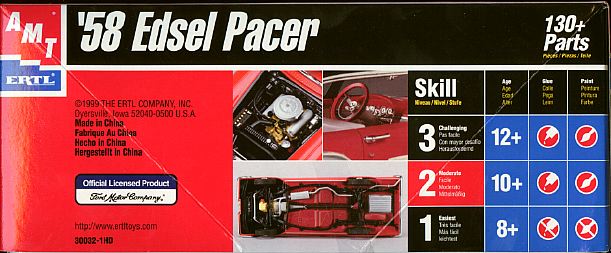 E-mail Me
Back to the Table of Contents
To The Scrapbook