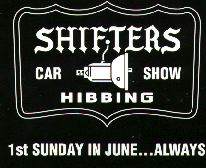 This is a very short, photo-filled, biased report of the Shifters Car Club annual car show in scenic North Hibbing, Minnesota, June 7, 1998. Basically, I'm covering the Edsels, people in attendence from Grand Rapids and surrounding areas that I know, and a few cars that looked interesting to me. the shifters show has grown over the past three years into one of the finest shows in Northern Minnesota. No formal judging. Entrants simply vote for their favorites. There was lots of food, live music, decent weather, and although the many shade trees make for comfortable car watching, the shade can sometimes make for some crummy pictures. Anyway, take a look and enjoy. Drop me an e-mail if ya like.
Lets Start with the Edsels!
Al Lilgreen hails from Grand Rapids, MN, and arrived in his nifty '59 Ranger four door hardtop.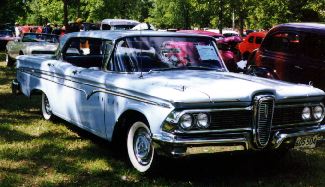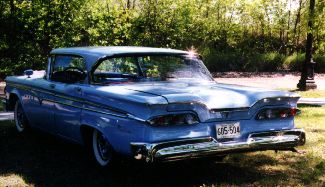 Al had a little trouble later in the day with the show law enforcement..a.k.a. Barney Fife, a.k.a. Mick Keiffer. Mick...I mean Barney, attends many shows around the country in his beautiful '63 Ford Galaxie Squad car, and also can be found with Floyd the barber, and Aunt Bea in tow, as was the case this year. See Al get a ticket, as Floyd looks on.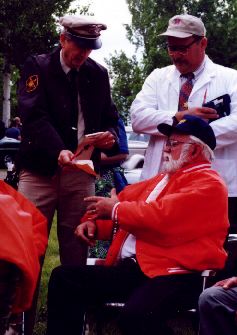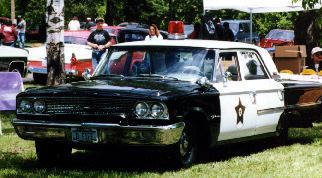 What happens when you take a '57 Ford, much like this one.....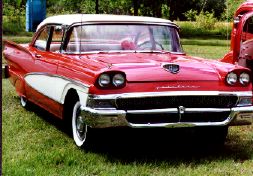 And put the front clip from a '58 Edsel on it? You get something like this...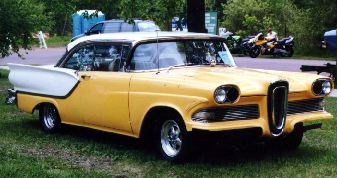 What the driver calls a Fordsel! Trouble with this sort of stuff is..people start believing that Ford made a '57 Edsel, and I get e-mails asking about it. Just like the Edchero boondogle.
What follows are just a few misc pics of cars at the show, with a very few captions, as I deemed necessary..or..at least..I could remember something about the car!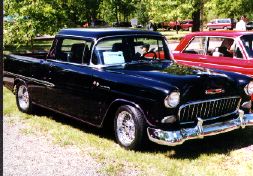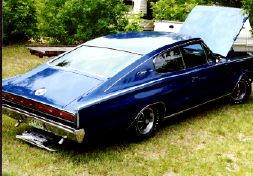 Steve Kovacovich of Bovey, MN presented us with his '55 Chevy El Camino. Yup, causes the same trouble for the Chevy fans as the Edchero does for us Edsel pilots! And this is a swell early Charger.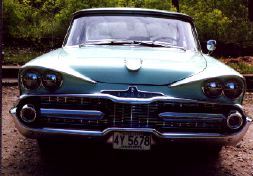 It's a funky Dodge..just wishing it could be transformed into a Batmobile, and a great Ford Flathead..probably the best running, best sounding Flathead I've come accross in a long time!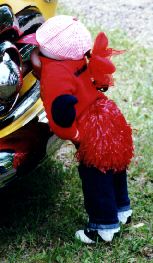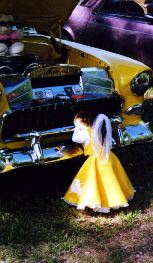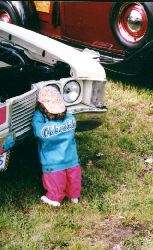 And what's with these darn "kids" sleeping on all the cars? I thought this was a cute idea till it caught on, and now there are almost as many fake sleeping kids as there are fuzzy dice at these shows. Here we have the Cheerleader version, then the poodle skirt kid, and the little boy model. This is an idea that has already outlived it's cuteness!!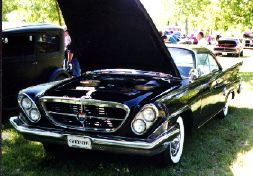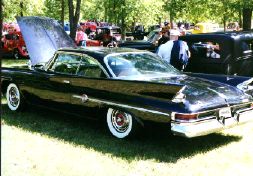 Lauren Lampi of Grand Rapids, MN, brought along his latest toy, a Chrysler 300.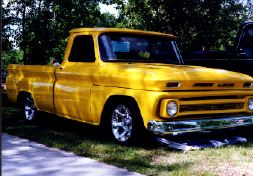 Pete Peterson of Grand Rapids debuts his keen Chevy pickup. Lawn chairs optional.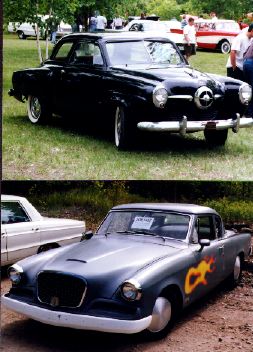 Is it possible! These two care are made by the same outfit? A pair of Studebakers.
Thats it. Short and sweet. E-mail me if ya feel like it.
Or go to the Edsel Classifieds
Back to the Front Page
To the Edsel Scrapbook